UPCOMING EVENTS
International Yoga Week 2018
Book your place here!
Join us at following events during the International Yoga Week 2018
Friday 22nd June 6:00pm – 8:00pm, bring your mat session
Saturday 23rd June 11:00am – 1:00pm, bring your mat session
For all levels
Please join us by booking your place here!
Venue:   Harry Atkinson Centre, Coburg Lake, Coburg North
Contact : Dada – 0466 485 411, 0470 201 451
Landline:              9384 0269

Mid Year Conference 2018

Welcome to Melbourne. This years Mid Year Conference will be in Melbourne
Comments from our last conference….
"Retreat helps us to get together."
"Loved it. Workshops were outstanding. Very sweet flow and enjoyed that flowed. Be back again….."
The program for this event is designed to assist us in engaging with our practice and discussing their application in the rapid spiritual evolution of society.
To register Click Here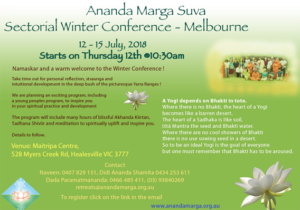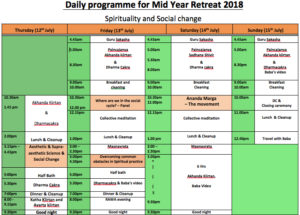 37th Annual Ananda Mela
The Ananda Mela Music and Wellbeing Festival  is an inspiring and empowering festival for all ages.
The festival recognises the role of culture in creating health and wellbeing and provides a festive
                space for health practitioners, artists and activists to contribute to the vitality of community
This year the mela includes a Green Me Locally Day !!!
 Check out our website here. To register for this amazing event click here

Green Me Locally Day

---
PAST EVENTS
WOMEN BUILDING COMMUNITY
Celebrate the first 50 years of WWD with the gathering of vibrant women.  Meet women who have dedicated their lives to help improve the lives of some of the most destitute women and children on this earth.
This gathering is an opportunity to:
Share the experiences of women who have been practicing meditation and yoga for decades
Learn the ancient wisdom of indigenous women in building community
Acquire tools to help maintain the balance in these rapidly changing times
Network with other women and be involved in inspiring conversations
Take time out of a busy life to enjoy a delicious vegetarian feast that is good for the body and mind; and heart warming music for the soul!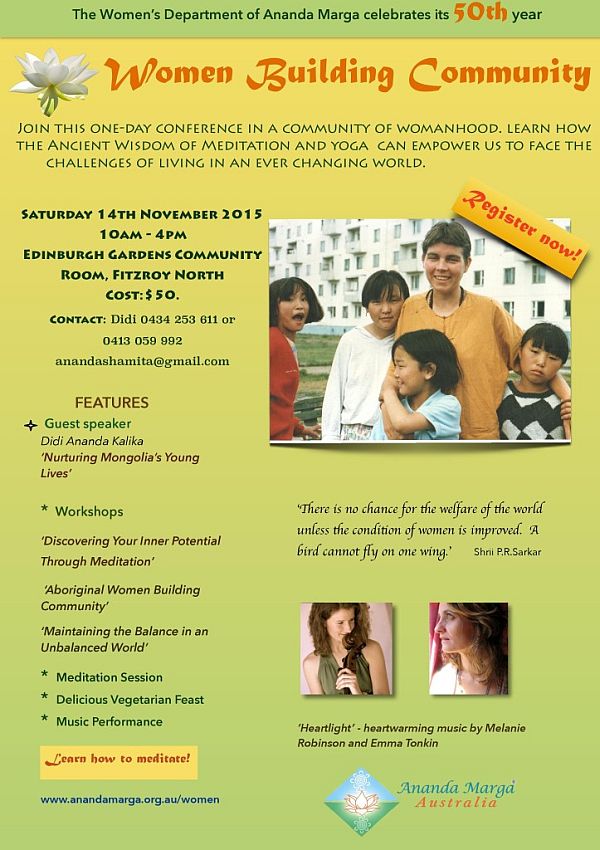 Neo-Humanist Schools

Social Service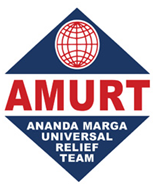 PCAP & Environment

Global Connection